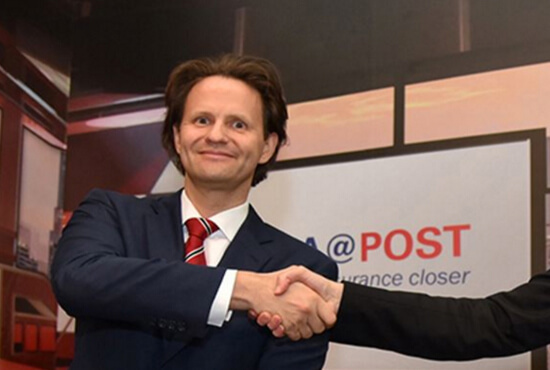 "The biggest danger is that we become complacent. We want a company that is 150 years old to last another 150 years," says Dr Baier.
Leading SingPost's e-commerce charge
SingPost CEO Wolfgang Baier foresees the demise of physical shopping.
WOLFGANG Baier, 41, is a whirlwind of energy as he explains how e-commerce is going to change the world. More and more people will be buying fashion, high-tech products and even furniture and car wheel rims online, says the chief executive officer of SingPost.
"It's going to change the way we human beings live and do things. You can see the patterns in US and Europe, and South-east Asia is leapfrogging because of smartphones and infrastructure," he says excitedly.
"I see people shopping much less and doing other things in their free time. The e-commerce push is not something that we gradually grow. I think it's going to be exponential."
A former partner at consultancy McKinsey, Dr Baier has worked with some of the biggest logistics and postal players in the world. Now, he is spearheading SingPost's transformation from stodgy mailman to a South-east Asian tech and logistics giant.
He has a habit of speaking quickly and enthusiastically. "I'm either highly charged or completely lazy – I don't have grey areas. When I go home, the energy drops," he tells The Business Times.
Since joining SingPost in 2011 to oversee the growth in non-mail products, Dr Baier – whose mother and grandfather both worked in postal services – has pushed the company into every area imaginable in the e-commerce value chain. Subsidiary SingPost eCommerce now provides more than 1,000 companies with services such as setting up an e-commerce website, sorting out goods at warehouses, organising shipments, sorting out customs clearances, and even providing call centre support. This is up from fewer than 100 customers four years ago.
Notably, SingPost attracted the attention of Chinese Internet giant Alibaba last year.
Alibaba was looking for logistics and warehousing services in the region for goods it needed to deliver to customers. Within months of testing out SingPost's services, Alibaba bought a 10.35 per cent stake in SingPost for S$312.5 million in May 2014. Both parties also signed an agreement to pursue a joint venture in the business of e-commerce logistics.
"Early last year they were here as a customer. After a while, they said: 'Hey guys, how good are you really in the region?' We gave them the keys and said: 'Why don't you check for yourself?' They came back and said: 'You guys have something'," Dr Baier recalls.
"We had set up a name for ourselves; people see that we're transforming."
The collaboration is now bearing fruit in Singapore and Indonesia, with other countries in the pipeline, he says.
Dr Baier is also trying to change the company culture by putting new values in place and encouraging a startup, risk-taking mentality among staff. Among other things, he worked at creating a sense of urgency in the company's 7,000 employees worldwide, inculcating a new vision of transformation. Values like teamwork, trust, top execution and prioritising the customer were emphasised.
"We worked on what platform we're building that we can jump into, otherwise we'll be grilled alive. Then we set the very new values in place," he says. "We said business as usual cannot exist here. If you do anything based on the past, in a fast-changing economy, you're most likely wrong."
His challenge is to keep the momentum of transformation going, he says. "The biggest danger is that we become complacent. We want a company that is 150 years old to last another 150 years."
One aspect of e-commerce, according to Dr Baier, is that it is a "local game". This means customers prefer buying from a website that understands their preferences.
"You need to have everything localised, from bank cards to currency to the way you market. In Singapore, you market football; in the Philippines, you market basketball," Dr Baier says. "You need a local store, you need to speak their language."
For example, SingPost has designed e-commerce websites in various countries for German sports brand Adidas, the first company to sign up in December 2012 to SingPost's full e-commerce offering. Adidas' India website has a section on cricket apparel. The Malaysian website allows online payment by CIMB and Maybank customers.
Other than Adidas, 14 other customers are tapping SingPost to manage their entire e-commerce value chain, including a popular American jeans brand, German lingerie maker Triumph, Japanese household goods store Muji, and electronics makers Toshiba and Philips.
The rest of SingPost's e-commerce customers sign on to specific types of services. Recently, the company was approached to manage an Asian call centre for a European luxury goods company, Dr Baier says.
The call centres that SingPost sets up provide services beyond the basic such as answering queries on where one's parcel is or how much a product costs. Rather, they are equipped to answer higher-level queries such as "I saw this bag on the website, is it dark brown or yellow?", he points out.
Thus SingPost's role in e-commerce goes beyond fulfilment – a term used to describe the storage of e-commerce goods, picking specific goods to meet an order, and packaging and sealing each order.
Rather, Dr Baier says, there is the web store, the delivery and returns process, and international freight forwarding, which is ensuring that goods from a manufacturer are shipped around the world to their required destinations or distribution centres, while clearing various customs processes.
"We pioneered it four to five years ago . . . When we first came in, there was no one around, that's why we were able to expand very fast," he says.
In this logistics chain, the front-end capabilities to build web stores cannot be neglected because competitors can always jump in with cheaper offerings for SingPost's business customers.
"We cannot afford to be disintermediated," he says.
Dr Wolfgang Baier joined SingPost in February 2011 as chief executive officer of its international business, looking at ways to grow the company's non-mail products, such as logistics, retail and e-commerce, and accelerate the group's regional expansion. In October 2011, he was appointed group CEO.
"I knew SingPost quite well and was already advising it, so I had a head start. The chairman and the board had been pushing for e-commerce for many years," says Dr Baier, who was with McKinsey Singapore from 2004 to 2011 and holds a PhD in Law from the University of Vienna along with Master degrees in law and business economics.
At McKinsey, he led its postal and logistics practice as well as operations activities in South-east Asia.
He had wanted to return to the region ever since he first came with his parents to Asia in the 1980s and fell in love with the food, sights and smells here, he says.
Singapore plays a key role in regional e-commerce, he notes.
"It was one of the reasons why I joined SingPost. I saw a raw diamond, if you cut it right," Dr Baier says. "Singapore has a very educated workforce, super digital capabilities, and agencies working with the government to set up an ecosystem."
The country is thus poised to become an e-commerce hub in Southeast Asia, he says. If not for that, the company would not have invested S$180 million last year in an e-commerce logistics hub in Tampines, with many times current capacity, he notes.
"When we have conversations with (businesses) in Europe and the US, and we say Singapore, there's trust," he adds.
Typically, higher-value goods will be processed here such as luxury goods, fashion apparel and high-tech products, Dr Baier says.
Looking ahead, SingPost will continue to see falling margins in its traditional mail delivery business, he says.
The company used to enjoy mail operating margins of around 40 per cent, but mail volumes have been slipping even as fixed costs rise due to Singapore's tight labour market. Mail segment operating margins are now around 30 per cent. "Postmen need to go to every house every day whether they carry 10 letters or two," he says.
The e-commerce and logistics business, meanwhile, has far lower operating profit margins: 4.6 per cent for logistics and 10.6 per cent for retail and e-commerce as of SingPost's most recent financial year. "So you need to grow fast," Dr Baier says.
To compete in the e-commerce logistics space, SingPost will place itself between the big international players and the "mom and pop" local shops, he says.
What helps, he adds, is that SingPost's cloud technologies and tracking and tracing systems are current, given that the company started from scratch only four to five years ago.
The company is also investing in delivery technologies. For example, deliverymen used to rely on industry- made handheld devices, which took a long time to upgrade. "We took it out and wrote software that runs on any mobile phone. There were huge cost savings. The software, picture taking are already integrated. We now have the ability to scale up very fast," he says.
Another investment was in POPStations, which are 24-hour automated kiosks where consumers can pick up what they had ordered online.
After an order is completed with a retailer that SingPost has tied up with, such as Zalora, Rakuten or Alibaba's Taobao, consumers get an SMS and e-mail when their parcel has been delivered to their local POPStation telling them they can collect the item at any time. There are now more than 100 such stations around Singapore.
The future of consumer goods delivery is through these automated stations, along with traditional routes such as to one's door or to retail outlets, Dr Baier says.
More and more types of consumer goods, meanwhile, will be purchased online. SingPost recently launched sea freight capabilities for its vPost online shopping portal to give consumers a cheaper option to buy bulky items without paying expensive air freight rates.
"You can buy mattresses, furniture, even car rims," Dr Baier says.
"South-east Asia parcel volumes are 20 per cent of what they are in developed markets. When you see that trend . . . that growth, we want to be part of that. We see ourselves as an enabler, a catalyst for that growth."
E-commerce revenue now forms 28 per cent of SingPost's overall revenues. Total revenue was S$920 million in SingPost's last financial year, while underlying net profit was around S$157 million.
However, with most of its profits still coming from its traditional mail business, the company will continue to invest there, Dr Baier says.
Notably, it invested S$60 million to upgrade its traditional mail business, including converting the mailman's traditional two-wheeler scooter into a three-wheeler version that can carry more and heavier e-commerce items while giving more stability and safety. Meanwhile, as machines take over mail sorting, most people have been redeployed to warehouse work, he says.
Ultimately, Dr Baier sees SingPost's role in the e-commerce world as providing technology solutions, logistics services and e-commerce know-how for businesses aiming to go online to sell to their customers. In the jargon, it is a B2B4C approach.
SingPost will remain relatively asset-light while making investments in e-commerce logistics and mail infrastructure, he says. It already has a site called Omigo to sell goods made by some brands but the company does not plan to run large e-commerce, multi-brand platforms like Alibaba or eBay. "We see Omigo more as an extension of our enabling e-commerce ecosystem," Dr Baier says.
The biggest risk the company took was the strong belief that a postal player can transform into an e-commerce firm, he says. "It's not obvious. Five years later, people say, 'Of course'. But when we were starting, people said, 'Yeah, right'."
SOURCE: http://www.businesstimes.com.sg/hub/singapore-corporate-awards-2015/leading-singposts-e-commerce-charge