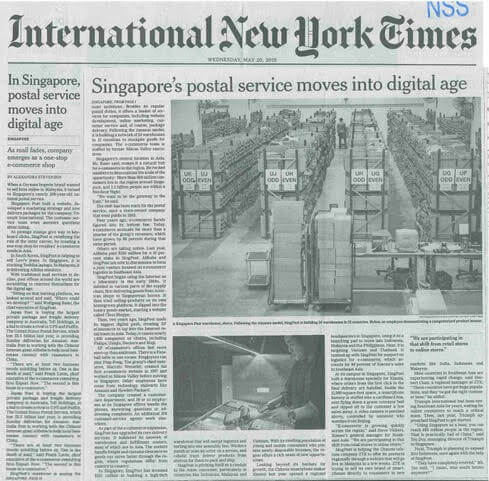 International New York Times – Singapore's postal service moves to digital age
SINGAPORE — When a German lingerie brand wanted to sell bras online in Malaysia, it turned to Singapore's nearly 200-year-old national postal service.
Singapore Post built a website, developed a marketing strategy and now delivers packages for the company, Triumph International. The customer service team even answers questions about sizing.
As postage stamps give way to keyboard clicks, SingPost is redefining the role of the letter carrier, by creating a one-stop shop for retailers' e-commerce needs in Asia.
In South Korea, SingPost is helping to sell Levi's jeans. In Singapore, it is stocking Toshiba laptops. In Malaysia, it is delivering Adidas sneakers.
With traditional mail services in decline, post offices around the world are scrambling to reinvent themselves for the digital age.
"Sitting on that burning platform, we looked around and said, 'Where could we develop?'" said Wolfgang Baier, the chief executive of SingPost.
Japan Post is buying the largest private package and freight delivery company in Australia, Toll Holdings, in a bid to create a rival to UPS and FedEx. The United States Postal Service, which lost $5.5 billion last year, is providing Sunday deliveries for Amazon. Australia Post is working with the Chinese Internet giant Alibaba to help local businesses connect with consumers in China.
"There are at least two business trends unfolding before us. One is the death of mail," said Frank Lavin, chief executive of the e-commerce consultancy Export Now. "The second is this boom in e-commerce."
SingPost's makeover is among the most ambitious. Besides its regular postal duties, it offers a basket of services for companies, including website development, online marketing, customer service and, of course, package delivery. Following the Amazon model, it is building a network of 24 warehouses in 12 countries to stockpile goods for companies. The e-commerce team is staffed with former Silicon Valley executives.
An employee of SP eCommerce, started by Singapore Post two years ago, uses a computerized product locater that reduces the time needed to find and ship a consumer's order. Credit Edwin Koo for The New York Times
Singapore's central location, said Mr. Baier, makes it a natural hub for e-commerce in Asia. He recited numbers to demonstrate the scale of the opportunity: Over 600 million consumers live in the region around Singapore, and 2.2 billion people are within a five-hour flight.
"We want to be the gateway to the East," he said.
The shift has been stark for the postal service, once a state-owned company that went public in 2003.
Four years ago, e-commerce barely figured into its bottom line. Today, it accounts for more than a quarter of the group's revenues, which have grown by 60 percent during that same period.
Others are taking notice. Last year, Alibaba paid $250 million for a 10 percent stake in SingPost. Alibaba and SingPost are now in discussions to form a joint venture focused on e-commerce logistics in Southeast Asia.
SingPost began using the Internet as a laboratory in the early 2000s. It dabbled in various parts of the supply chain, first delivering goods from American shops to Singaporean homes. It then tried selling products on its own homegrown platform. It even dipped into the luxury goods market, starting a website called Clout Shoppe.
Then, two years ago, SingPost made its biggest digital push, creating SP eCommerce to tap into the Internet retail boom in Asia. Today, it counts nearly 1,000 companies as clients, including Philips, Uniqlo, Deckers and Muji.
SP eCommerce's offices feel more start-up than mailroom. There is a Foosball table in one corner. Employees can play Ping-Pong. The group's chief executive, Marcelo Wesseler, created his first e-commerce website in 1997 and worked in Silicon Valley before moving to Singapore. Other employees have come from technology stalwarts like Amazon and Hewlett-Packard.
The company also created a customer-care department. At its Singapore offices, 30 or so employees handle the phones, answering questions or addressing complaints. An additional 200 customer-service agents work elsewhere.
As part of the e-commerce expansion, SingPost upgraded its core delivery services. It has bolstered its network of warehouses and fulfillment centers, most of which are in Asia. The centers handle freight and customs clearance so goods can move faster through the region, where regulations differ from country to country.
The offices of SP eCommerce, which already has 1,000 clients whose products it helps sell online across Asia and Australia. Credit Edwin Koo for The New York Times
In Singapore, SingPost has invested $182 million in building a high-tech warehouse that will merge logistics and sorting into one assembly line. Workers punch or scan an order on a screen, and robotic trays deliver products from shelves for them to pack and ship.
SingPost is pitching itself as a conduit to the Asian consumer, particularly in countries like Indonesia, Vietnam and Malaysia. With its swelling population of young and mobile consumers with newly disposable incomes, the region offers a rich seam of new opportunities.
Looking beyond its borders for growth, the Chinese smartphone maker Xiaomi last year opened a regional headquarters in Singapore, using it as a launching pad to move into Malaysia, the Philippines and Indonesia. Next, it is targeting Vietnam and Thailand. It teamed up with SingPost for support on logistics for e-commerce, which accounts for 80 percent of Xiaomi's sales in Southeast Asia.
At its campus in Singapore, SingPost built a warehouse specially for Xiaomi, where orders from the first click to the final delivery are handled. Inside the 11,000-square-foot space, a smartphone battery is stuffed into a cardboard box, sent flying down a green conveyor belt and zipped off to the customer a few miles away. A video camera is perched above, controlled by someone who watches from Beijing.
"E-commerce is growing quickly across the region," said Steve Vickers, Xiaomi's general manager for Southeast Asia. "We are participating in that shift from retail stores to online stores."
SingPost is helping the Chinese telecom company ZTE to offer its products regionally through a website that will go live in Malaysia in a few weeks. ZTE is trying to sell its own brand of smartphones directly to consumers in new markets like Malaysia, Indonesia and India.
Most countries in Southeast Asia are experiencing rapid change, said Herbert Chan, a regional manager at ZTE. "These countries have got huge populations and they've got the right customer base," he added.
Triumph International had been eyeing Southeast Asia for years, waiting for online consumers to reach a critical mass. Then, last year, Triumph approached SingPost to get started.
"Using Singapore as a base, you can reach 680 million people in the region. That is practically half of China," said Teo Doy, managing director of Triumph in Singapore.
Next, Triumph is planning to expand into Indonesia, once again with the help of SingPost.
"They have completely evolved," Ms. Teo said. "I mean, who sends letters anymore?"
SOURCE: https://www.nytimes.com/2015/05/19/business/international/singpost-reinvents-for-digital-age-of-ecommerce.html